ABOUT OUR Vienna VA INDIAN RESTAURANT (also offering Vienna VA Indian food catering, and Vienna VA Indian food carryout)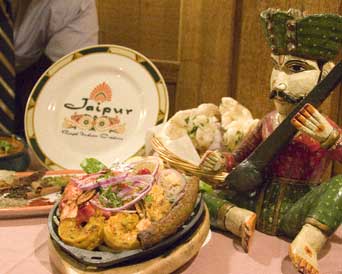 Jaipur Royal Indian Cuisine is named for the city of Jaipur, which is located in the northern Indian province west of New Delhi.  Jaipur is known as the Pink City.  It is very colorful, lively, and is considered one of the jewels of Rajasthan region.
The restaurant's decor includes rows of beads adorned with brilliantly colored birds and a contingent of elaborately dressed puppets, which are very popular in Jaipur. The dining room of our Fairfax-Vienna Indian restaurant is adorned with stunning paintings by Indian artists, and the interior design is representative of the many palaces in the region, including the Rajasthan Royal Palace.   The dining room includes many artifacts from the region to give our customers a truly authentic Jaipur dining experience.
The Indian cuisine in our Fairfax Indian restaurant is a combination of many subtle tastes. Flavors are as varied as is the climate of India, and as exotic as the people of India. Fragrant, pungent and warm spices from the four corners of the country are delicately blended in meticulous proportions to create the dishes we present to you. Each dish will have its own distinctive flavor and aroma, which cannot come from any curry powder, but from spices and special ingredients that are prepared fresh each day for each individual dish.
Our traditional dishes are rooted in the soil of Northern India and they are prepared in our restaurant as they would be in our own homes.  Each dish on our menu is flavored separately and is available for Fairfax Indian food catering, and Fairfax-Vienna VA Indian food carryout as well as in our dining room.
---
ABOUT THE OWNERS
Archana Dumra has been in restaurant business since 1991, she began her career in the restaurant when she opened Delhi Dhaba  in Arlington, which is still family owned and operated today.  In 2002 Archana opened her own restaurant, Jaipur "Royal Indian Cuisine" at its current location in Fairfax-Vienna VA.  Archana manages day to day operations and serves as hostess.
Jaipur Royal Indian Cuisine Is a woman owned business.
The chef and manager, who is from the Jaipur region, has been with Jaipur Royal Indian Cuisine from day one.
The most popular dish on the menu is the Murgh Tikka Masala, which is made with chicken breasts grilled in Tandoor oven then finished in onion and tomato sauce with cream and bell peppers.
Please provide us with the opportunity to demonstrate the attentiveness of our wait staff where your water glass is never empty, and used plates are cleared from your table quickly.  Whether you elect to enjoy the unparalleled service of our Fairfax-Vienna Indian restaurant, or take advantage of our Vienna VA Indian food catering, and Vienna VA Indian food carryout, will provide you a with an Indian dining experience that is unparalleled anywhere in the Washington, D.C. area.